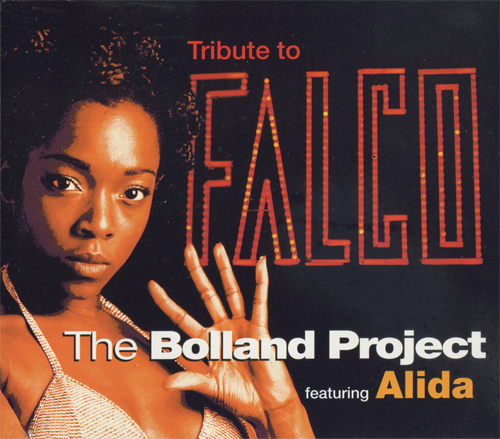 Running time
3:26 Minutes
Time of origin and release
1998 (creation and release on the single "Tribute To Falco" by The Bolland Project feat. Alida)
Released as a single
August 1998
Charts: #95 GER
Music, lyrics and production
Music: Rob & Ferdi Bolland
Lyrics: Falco, Rob & Ferdi Bolland
Producer: Rob & Ferdi Bolland
Officially released mixes/edits/versions
About the song
After Falco's death and the posthumous release of the album Out Of The Dark (Into The Light), other record companies and people with a connection to the late artist were also in a hurry to throw Falco products onto the market. As part of the new demand Best-Of albums, documentary videos, books and newly made remixes of Falco's songs were released shortly after his death. With this Falco revival, the Bollands, the authors and producers of the Falco albums Falco 3, Emotional, Wiener Blut and Nachtflug also wanted their share of the commercial cake. And so in August 1998 a CD single was produced with three songs, all of which dealt with Falco's life and death in a very pathetic and superficial way. In addition to the title song, the EP also includes the songs "We Say Goodbye" and "So Lonely", but the latter two songs don't use any samples with Falco's voice.
The tribute song is a classic sampling number: Falco's voice was mixed in with newly composed music and melodies from Falco hits. These samples come, on the one hand, from an interview that Falco gave in 1986 on the occasion of the release of the album Emotional in the Bolland studios in Hilversum, and on the other hand, from recordings of the concert at the opening of the Vienna Festwochen in 1985.
The track begins with the melody of Rock Me Amadeus, over which a news anchor reads a report about Falco's death. After the verse rapped by the singer Alida (who was never heard from again), the sung chorus follows. Then you hear the news anchor again, who now reads out highlights of Falco's life and career. Both the chorus and these biographical elements have a direct connection to the international remixes of Rock Me Amadeus, which were created in 1986. After the second chorus the song changes, one now can hear the melody of the Falco song Jeanny. Shortly afterwards the Rock Me Amadeus melody starts again, in the finale the "Amadeus, Amadeus" refrain from Falco's biggest hit and the chorus of the Bolland tribute number are mixed together.
Musically, both the verses and the chorus have a biting and catchy quality; it's one of those professional Bolland songs that somehow works despite a fair amount of soullessness and sterility. What's really embarrassing, however, are the pathetic texts, which are full of clichés and superficiality. On the one hand, shame arises due to cheaply formulated exaggeration ("He was cool, he was hot, he was so unique"), on the other hand, the lyrics read like cheesy entries in condolence books ("Now that you are gone, you'll live on and on, you're in my heart, Falco Superstar. We still love you, oh yes, we do", "now there's a place in heaven where you play your part".) Then there is the meaningless discussion of Falco's tragic death ("No one really knows what happened that day, how his car collided no one can say").
By the way: the other two songs on this EP (in which no Falco samples were used) also outdo each other with lyrics that are so bad that it almost creates an involuntary hilarity.
At the time of the posthumous Falco euphoria and marketing, the CD single was successful, at least in Germany, placing at #95 in the charts. Around eight years later, in 2007, this song was included as a bonus track on the Falco best of compilation Hoch Wie Nie for unknown reasons – what motivated those responsible for the release to make this choice will probably remain a mystery forever.
The cover of the single features a portrait photo of the singer Alida, behind which you can see the red Falco logo from the video Emotional.
A video was also produced, with Dolezal & Rossacher once again acting as directors. The clip consists of newly recorded material with the singer, plus footage from numerous Falco videos and live recordings. The news anchor was filmed wearing ultraviolet face paint, a nice nod to the Junge Roemer video. In terms of content, the clip is about little; the singer and her background dancers sit on a couch in a room and watch Falco clips on a television. In between, shots are cut of the three dancing and singing in narrow hallways. The Falco samples use excerpts from TV interviews or concerts.
A 'Club Mix' of this Falco tribute song was also produced, but this changes little and does not extend the running time. Only a few bonus beats were added to the melody.
In retrospect, this sampling song was the first foretaste of many more such cobbled-together songs by the Bollands. A year later, in 1999, they remixed two songs that had already been released in 1992 (Genie Und Partisan (A Fascinating Man) and Metamorphic Rocks) and sold them as three new Falco songs (Fascinating Man, We Live For The Night und From The North To The South). In the same year, the two brothers offered a newly composed song using Falco's vocal recordings from the English version of Jeanny as a free download on an Austrian music platform. Where Are You Now?, shamlessly marketed as the third part of the Jeannysaga (a marketing stunt that was much more successful repeated in 2009 by Horst Bork and Gunter Mende on The Spirit Never Dies went down without much response, the fan fraud was too obvious. In addition, other sampling songs were created at the same time (Angst, Change, Extravaganza, Just An Illusion, New York City Girls), which then made their rounds online under the name "The Bolland Tapes", fortunately these mash-ups were never officially released.
It's also worth noting that the Bollands had a weakness for tribute and homage songs even during Falco's lifetime. Rock Me Amadeus, Kamikaze Cappa, The Kiss Of Kathleen Turner, Garbo and the two Charles Darwin hommage songs (Genie Und Partisan (A Fascinating Man) and Metamorphic Rocks fall into this category. It therefore seems only logical that after Falco's death, the Bollands also worked on their most prominent cooperation partner in this regard.
The sampling song is clearly more reverent and less shameless compared to the ones produced later. Of course, the financial and commercial potential of the release took precedence over its artistic and human value, but it is certainly more authentic, both musically and in style, than later horrors involving Falco's sampled voice.
Lyrics
Austrian rock singer Falco was killed in a car crash in the Dominican Republic
Falco achieved world-wide fame with mega hits such as "Rock Me Amadeus", "Vienna Calling" and "Jeanny"
Reaching the number one positition on both the American and English pop charts
As well as in numerous other countries
He will be missed sadly by his fans world-wide
This is the story of a boy with a dream
Born in '57 in the city of Wien
He made a promise to himself
That he would go far
This is the story of Falco, superstar
He was cool, he was hot, he was so unique
Sang "Vienna Calling" to "The Sound Of Musik"
"Rock Me Amadeus" and "Der Kommissar"
This is the story of Falco, superstar
Now that you're gone
You'll live on and on
You're in my heart
Falco, superstar
We still love you
Oh yes, we do
You're in my heart
Falco, superstar
– 1957: Johann Hölzel is born in Vienna
– 1968: After his parents separate, Johann stays with his mother
– 1981: He records "Der Kommissar"
– 1986: "Rock Me Amadeus" hits number on in the USA
– In that same year, the song "Jeany" banned from the radio. One of many million sellers
– 1998: Falco dies in a fatal car crash
Now that you're gone
You'll live on and on
You're in my heart
Falco, superstar
We still love you
Oh yes, we do
You're in my heart
Falco, superstar
Kommt her und schaut in meine Herz!
Ich bin für euch ein offenes Buch
Schaut's rein
Ich hab' nichts zu verbergen *1
No one really knows what happend that day
How his car collided
No one can say
Now there's a place in heaven
Where you play your part
This was the story of Falco, superstar
Now that you're gone
You'll live on and on
You're in my heart
Falco, superstar
We still love you
Oh yes, we do
You're in my heart
Falco, superstar
Hallo Wien, hört ihr mich? *2
(Amadeus, Amadeus)
Zunächst ganz herzlich bei euch dafür bedanken *2
(Amadeus, Amadeus)
You're in my heart
Falco, superstar
That tears we cry
Farewell, goodbye
You're in my heart
Falco, superstar
Now that you're gone
Aha, interessant
Skandal, Schlagzeile, Skandal etc.
Das ist gut
Das ist Showbiz! *1
Note: The normally displayed text modules use samples with Falco's voice, the italic ones use Alida singing or a news anchor speaking.
The samples with Falco's voice come from an interview from 1986 (*1) or from the opening concert the Vienna Festwochen, 1985 (*2).
My text version is based on the text supplements of the official releases (booklet, inlay, cover etc.), if available. However, all lyrics were tapped and corrected according to the sung word. For songs where no lyric supplements are available, my version is based solely on the sung word or also on lyrics circulating on the Internet. Text passages sung in dialect are in moderate transliteration. Spelling errors, both German and English, were corrected in glaring cases. The spelling is based partly on the spelling valid at the time (text supplements), partly on the new spelling (own interceptions). Punctuation marks have generally been omitted. I am grateful for any suggestions for improvement.