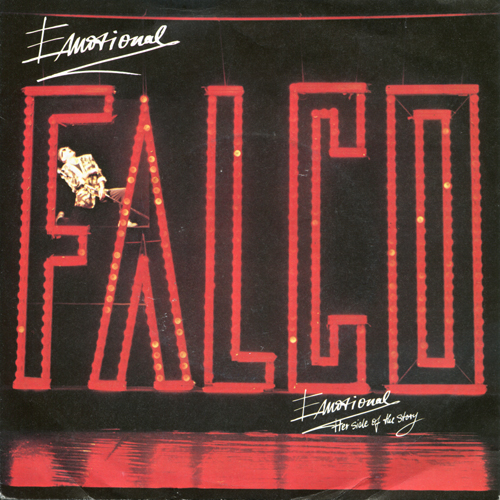 Laufzeit
4:52 Minuten
Album
Single-Auskopplung
März 1987
Musik, Text und Produktion
Musik: Rob & Ferdi Bolland
Text: Falco, Rob & Ferdi Bolland
Produzent: Rob & Ferdi Bolland
Offiziell veröffentlichte Mixes/Edits/Versionen
Extended Version 7:38 (1986)
Extended N.Y. Mix 8:20 (1986) *
English Extended N.Y. Mix 8:20 (1986)
N.Y. Mix 4:20 *
English N.Y. Mix 4.20 (1986) 4:20 *
English Version 4:53 *
Her Side Of The 5:19 (1986)
Her Side Of The Story Edit 4:09 (1986) *
Harold Faltermeyer Remix 6:05 (1991)
* Digital unveröffentlicht
Offiziell veröffentlichte Liveaufnahmen
Berlin, Eissporthalle 5:20 (1986)
Sampling Versionen
Sterben Um Zu Leben Collaboration feat. 3 Plusss 2:38 (1986/2018)
Sterben Um Zu Leben Instrumental Collaboration feat. 3 Plusss 2:38 (1986/2018)
Über den Song
Folgt in Kürze…
Text
Here comes the soul
Gimme that soul
(He's emotional, he's an emotional man)
And sacrify the day
Want you to come and do me
(He's emotional, he's an emotional man)
And bless the night
He's got tears in his eyes
Watch me
Hey, now watch me break down and cry
Ey, watch me cry
Hear me, babe
Was soll ich dir noch sagen?
Es ist doch alles schon gesagt
Ohne uns sind wir die Hälfte wert
Wir geh'n vorbei uns seh'n es nicht
Und du weißt, ich hab ein Herz wie ein Löwe
Und das Herz geht so lang zum Messer bis es sticht
Do me
I'm so emotional
(He's emotional, he's an emotional man)
I had my woman right here
I had her in the palm of my hand
Want you to come and do me
(He's emotional, he's an emotional man)
I'm so emotional
He's got tears in his eyes
Watch me
Watch me break down and cry
Ey, watch me cry
Still hear me, babe
Ich weiß, dass die Frau die mich erträgt noch nicht geboren ist
Aber ich bitte dich, komm zur Welt
Und du weißt ich hab ein Herz wie ein Löwe
Und wenn du willst, dann geh' ich down on my knees
And pray to the spirits above
And do me
I'm so emotional
(He's emotional, he's an emotional man)
I had my woman right here
I had her in the palm of my hand
Want you to come and do me
(He's emotional, he's an emotional man)
I'm so emotional
He's got tears in his eyes
Watch me
Watch me break down and cry
Tears in my eyes, I've got to cry, cry
Tears in my eyes, I've got to cry, cry
Tears in my eyes, I've got to cry, cry
Now watch me break down and cry, cry
Watch me break down and cry
And pray to the spirits above
Do me
I'm so emotional
(He's emotional, he's an emotional man)
I had my woman right here
I had her in the palm of my hand
Want you to come and do me
(He's emotional, he's an emotional man)
I'm so emotional
He's got tears in his eyes
Watch me cry
Hear me, babe
Was soll ich dir noch sagen?
Es ist doch alles schon gesagt
Siehst eh wo ich bin
Can't you see I'm down on my knees?
I'll tell you something
Wenn nicht, wenn nicht, dann nicht
I'm so emotional
(He's emotional, he's an emotional man)
I had my woman right here
I had her in the palm of my hand
Want you to come and do me
(He's emotional, he's an emotional man)
I'm so emotional
He's got tears in his eyes
Watch me, hey
I'm so emotional
(He's emotional, he's an emotional man)
The woman right here
I had my woman right
I swear I'm gonna find you
I'm so emotional
(He's emotional, he's an emotional man)
I swear I'm gonna find you tonight
I swear I'm gonna find you tonight
Text
Englische Version
Here comes the soul
Gimme that soul
(He's emotional, he's an emotional man)
And sacrify the day
Want you to come and do me
(He's emotional, he's an emotional man)
And bless the night
He's got tears in his eyes
Watch me
Hey, now watch me break down and cry
Ey, watch me cry
Hear me, babe
What else is there to say?
We've seen it all before
Without us we are nothing at all
Just shadows of what we used to be
And you know my heart's not made of stone
But if you turn that blade in all the way
It would reach through me
I'm so emotional
(He's emotional, he's an emotional man)
I had my woman right here
I had her in the palm of my hand
Want you to come and do me
(He's emotional, he's an emotional man)
I'm so emotional
He's got tears in his eyes
Watch me
Watch me break down and cry
Ey, watch me cry
I know there is not a woman being born
Who can take me as I am
But girl, you sure came close
And you know my heart's not made of stone
But if you want, I'll get down on my knees
And pray to the spirits above
I'm so emotional
(He's emotional, he's an emotional man)
I had my woman right here
I had her in the palm of my hand
Want you to come and do me
(He's emotional, he's an emotional man)
I'm so emotional
He's got tears in his eyes
Watch me
Watch me break down and cry
Tears in my eyes, I've got to cry, cry
Tears in my eyes, I've got to cry, cry
Tears in my eyes, I've got to cry, cry
Now watch me break down and cry, cry
Watch me break down and cry
And pray to the spirits above
Do me
I'm so emotional
(He's emotional, he's an emotional man)
I had my woman right here
I had her in the palm of my hand
Want you to come and do me
(He's emotional, he's an emotional man)
I'm so emotional
He's got tears in his eyes
Watch me cry
Hear me, babe
Was soll ich dir noch sagen?
Es ist doch alles schon gesagt
Siehst eh wo ich bin
Can't you see I'm down on my knees?
I'll tell you something
Wenn nicht, wenn nicht, dann nicht
I'm so emotional
(He's emotional, he's an emotional man)
I had my woman right here
I had her in the palm of my hand
Want you to come and do me
(He's emotional, he's an emotional man)
I'm so emotional
He's got tears in his eyes
Watch me, hey
I'm so emotional
(He's emotional, he's an emotional man)
The woman right here
I had my woman right
I swear I'm gonna find you
I'm so emotional
(He's emotional, he's an emotional man)
I swear I'm gonna find you tonight
I swear I'm gonna find you tonight
Zusätzlich verwendete Textbausteine in alternativen Mixes/Edits/Versionen
Extended Version:
And I'll tell
I'll tell you something
Wenn nicht, dann nicht
Aber du weißt
Ich lasse mit mir reden
Und, und, und ich weiß
Du bist ein Zeugnis der Fähigkeit zu lieben
Und zugleich ein Beweis der Unfähigkeit es dauernd zu tun
Right?
What do you see when you look at me?
And knows what it takes to survive when a heart breaks?
Baby, I'm just too emotional
Und vielleicht bin ich nur zu emotional
Zu emotional
Boy meets girl, they fall in love
They kiss under the stars above
She says bye-bye
And breaks his heart
Now he gets all emotional

You know you never do the things that I want you to do
You never think of me and what you say ain't true
You say you really are so emotional
You say you don't want me to be irrational
Now when I see you on the floor down on your knees
And I listen to your sobbin' and your beggin' and your pleas
I feel so sorry for the man I left behind
You still control my heart but not my mind
Say you got a heart full of devotion
Now you showin' your emotions
But it's too late to stay
Now that I've gone away
You say your life is shattered
Your poor little heart is battered
Now it's too late to cry
Baby, baby, bye bye
So emotional
Her Side Of The Story:

I just have to leave you
I just have to get away
I guess there's no way back
Listen, baby
We've been through this all before
I've heard your side of the story
On the other side oft he record
I used to love you
But that's all over
You see, we've changed
We've grown apart
We're living in different worlds now
And of course…
There's the other guy
You see, he doesn't go on tour
Travelling all over the place
He doesn't have hordes of girls following all around
I guess I just want more of you
To spend more time with you
Hey, baby…
Don't get emotional
Meine Textfassung beruht, falls vorhanden, auf den Textbeilagen der offiziellen Veröffentlichungen (Booklet, Inlay, Cover etc). Allerdings wurden alle Texte abgehört und nach dem gesungenen Wort korrigiert. Bei Songs bei denen keine Textbeilagen verfügbar sind, basiert meine Fassung ausschließlich auf dem gesungenen Wort bzw. auch auf im Internet kursierenden Versionen. Textpassagen, die im Dialekt gesungen wurden, stehen in gemäßigter Transliteration. Rechtschreibfehler, sowohl deutsche als auch englische, wurden in eklatanten Fällen korrigiert. Die Rechtschreibung beruht teils auf der zur jeweiligen Zeit gültigen (Textbeilagen), teils auf der neuen Rechtschreibung (eigene Abhörungen). Auf Satzzeichen wurde im Allgemeinen verzichtet. Für Verbesserungsvorschläge bin ich dankbar.